2019 Year in Review
Posted on Dec 19, 2019
---
Season's Greetings!
2019 has been a full-on year for 2nd Foundation Music. Alongside the regular schedule of monthly album releases, we've been keeping busy starting a second record label and putting on a musical, so we've gotten a bit behind on writing blogs… but we thought we'd catch you up on all the news before the Christmas break.

Arrow Production Music
At the start of this year, we launched Arrow Production Music, a sister label to 2nd Foundation Music focussed solely on electronic sounds. Ranging from epic promos to bubbly underscores, we set out to create a collection of innovative and high-quality tracks written by a range of composers.
ARW001 Overcoming Adversity:

ARW005 Bright Business Underscores:
ARW006 Disturbing Drama:
ARW012 Popular TV Beds:

With twelve albums released and an ever-growing list of distributors, we're well underway going into 2020 with further albums in the works. Please give Arrow a follow on Facebook, Instagram and Twitter to keep up to date, or visit the website to hear more snippets from our albums.
Zombies: The Musical
A couple of years back, Daryl took a few months away from production music to turn his hand to writing his first musical. With his love of show-tunes and cheeky sense of humour, Zombies: The Musical was gradually born: an infectious tale of an experiment gone wrong and an undying search for love. The stage beckoned, and in October we finally put on a showcase production at The Other Palace Studio Theatre in Victoria, London. We had a fantastic cast and crew who put the show together after only a week of intensive rehearsals, and played four public performances to a raucous audience response.
Here's the sizzle reel:
You'll have to stay tuned on Facebook, Instagram and Twitter to keep up to date, or visit the website to see what happens next...
New Staff
Our partners at Maestro Music UK have a new member of staff - James Yan, otherwise fondly known as "Aussie J", has fast become a key fixture of the team, with jobs ranging from engineering to editing to stage-managing! He also holds a Master's in Composition from the Royal College of Music: so listen out for his work on 2FM and Arrow albums next year. To find out more about James, click here.
New Distributors
We're also thrilled to have expanded our roster of distributors for 2FM in 2019. In Italy we are now represented by Machiavelli Music, and Mediacube now represents us in Korea. We're thrilled to have them on board.
Albums
Now onto the albums!
In January we released our first-ever promo album, taking some of our early orchestral music and re-mastering the tracks to make them even more punchy and loud. We've got more on the way for January and we can't wait to share them.
Carter William and Bob Charles wrote Organic Textural Underscores, a world of beautiful minimalist sounds and calm underscores. On the more tense side, we also released Drama String Beds, with tracks contributed by Bradley, Daryl and Chris.
We've expanded our collection of source music, too: Paul Reeves wrote The Cocktail Lounge, a slinky and elegant Jazz album for piano and accompaniment, and Daryl's Background Classical Quartet features some classical favourites and original compositions for high-society string quartet.
Cheeky Pluckers, also written by Daryl, was this year's obligatory pizzicato album from 2FM, and Robert Elliott wrote Positive Inspiration: a bubbly, perky album for piano, string quintet, guitars and light percussion.
In fact, we were lucky enough to have two contributions from Rob: he also wrote the poignant and emotional Piano Impressions, for piano and string quartet. The newly-released Poignant Cinematic Reflections, featuring upright piano, sparse strings and synth, brings the year to a thoughtful close.
Of course, we couldn't resist a second Christmas album - with Daryl in an elf hat, it needs no introduction...
Merry Christmas from 2nd Foundation Music and we'll see you in the New Year!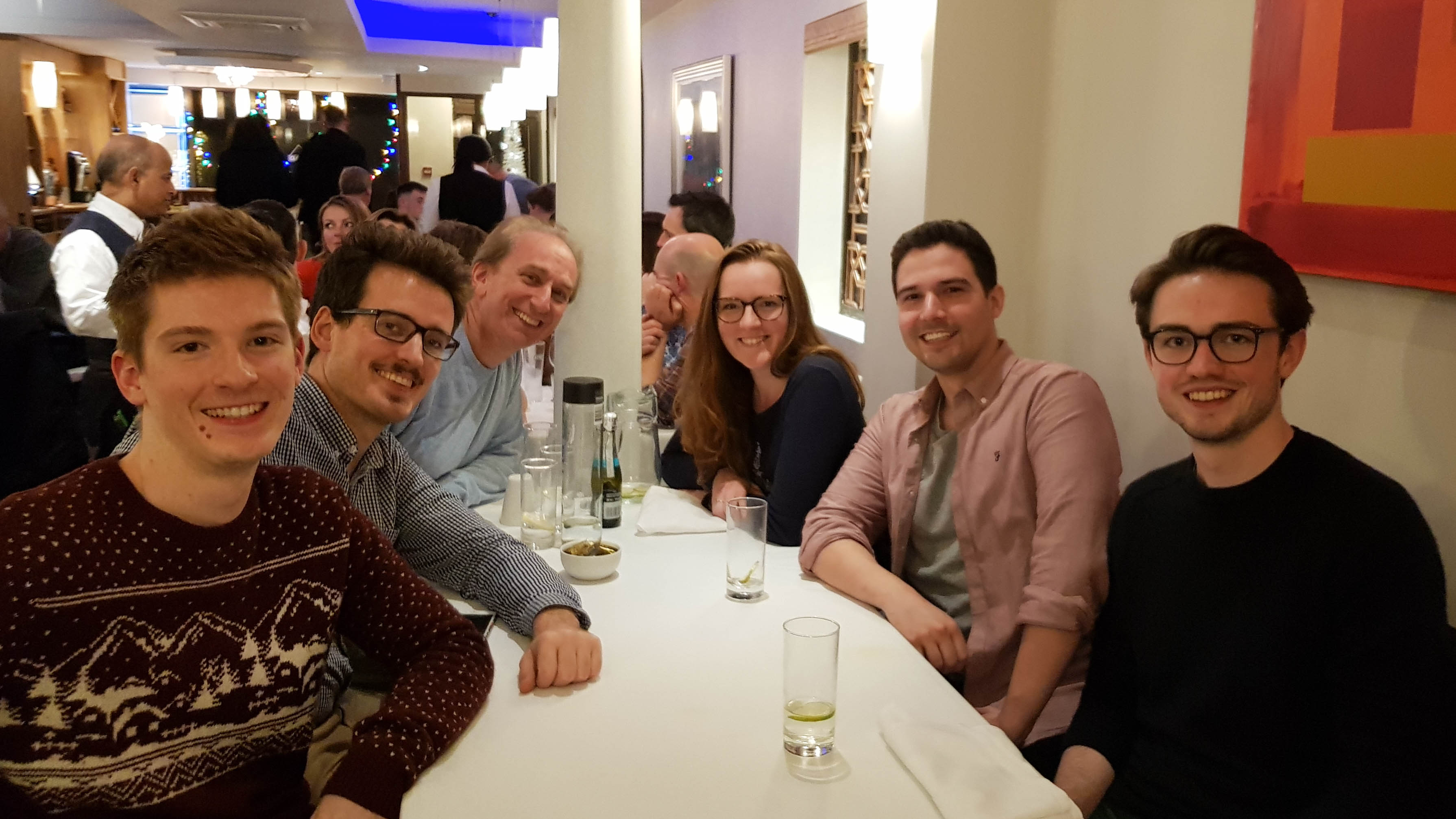 L - R: Wes, James, Daryl, Rhiannon, Bradley and Chris after a Christmas curry.